After the system is powered up, the screen displays as follows: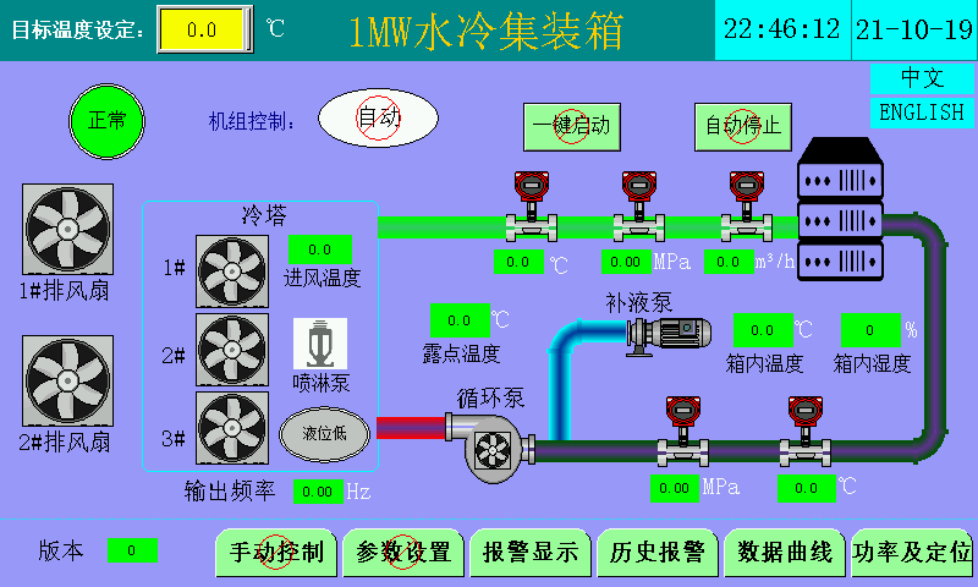 Figure 1-Main screen display
The main screen displays the unit control mode "Auto/Manual", target temperature (settable), total fault display and analog display. The system can set the operation control mode of the unit through the main screen. Manual control is used for commissioning and automatic control is used for system operation.
When the system needs to run automatically, you must make sure the pressure in the system is higher than 0.05Mpa, and then set all parameters in the parameter setting screen. Then click "One Key Start" in the main screen, and the motors in the system will be executed according to the automatic control logic sequence. To shut down, click on "Auto Stop" in the main screen.
*Note: This is the water-cooled container parameters of CNA version 1.3, if your product is other manufacturers or other versions, may be slightly different from this parameter, this parameter is for reference only.
If you have any questions, welcome to contact Ant after-sales service.