After signing off the delivery receipt or proof of delivery, always check the conditions of the package before opening it.
How to inspect a new miner?
1. Visually inspect the box when your package arrives. Look for signs of damage such as a wet or flattened package, packages with holes and dents. If package is damaged, take photos of the package's conditions before proceeding to open the package and inspect the miner.
2. Inspect the miner for aesthetic damage. Look at the corners of the miner and check for dents and cracks. Look out for broken fan blades, cables, and bent connectors.
3. Assess miner's heat sinks. View from miner's front and rear fan to check whether there are loose heat sinks.
*NOTE: It is normal hear some marginal board movement when moving the miner as the hash boards are not tightly fitted to the miner case.
---
1. Contact the Courier and BITMAIN
Always file a damage claim with the courier before contacting BITMAIN. If the delivery personnel is still at your doorstep, take the photos first then request that he returns your damaged package to BITMAIN.
To contact BITMAIN, write in a support ticket here. In your support ticket, include the following so that we can begin an investigation with the courier: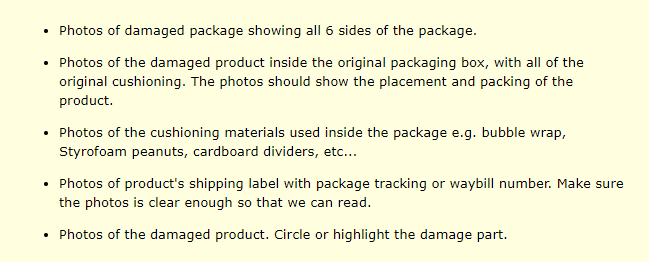 All claims or inquiries about your packages such as damages, lost in transit, receiving incorrect package or wrong delivery address have to be raised within:
UPS - 14 days,
FedEx - 21 days,
DHL - 30 days,
of your package dispatch dates. We will not be responsible for any issues raised after the stipulated time.
2. Investigation
We seek your patience as an investigation could take about 1 month. During this period, keep in contact with your courier person-in-charge and with BITMAIN to stay updated on the progress of the investigation.
3. Resolution
The courier and BITMAIN will inform you on the outcome of the your claim.
If your damage claim is successful, you would be asked to ship back the damaged product if you have not done so with the courier. BITMAIN will proceed to ship a new product to replace your damaged one.
Should you have any inquiries, feel free to contact us for assistance.