More often than not, packages are being returned to us or discarded by the local customs due to untimely customs clearance. If you are unsure how to prepare for customs clearance, this step-by-step guide may come in handy.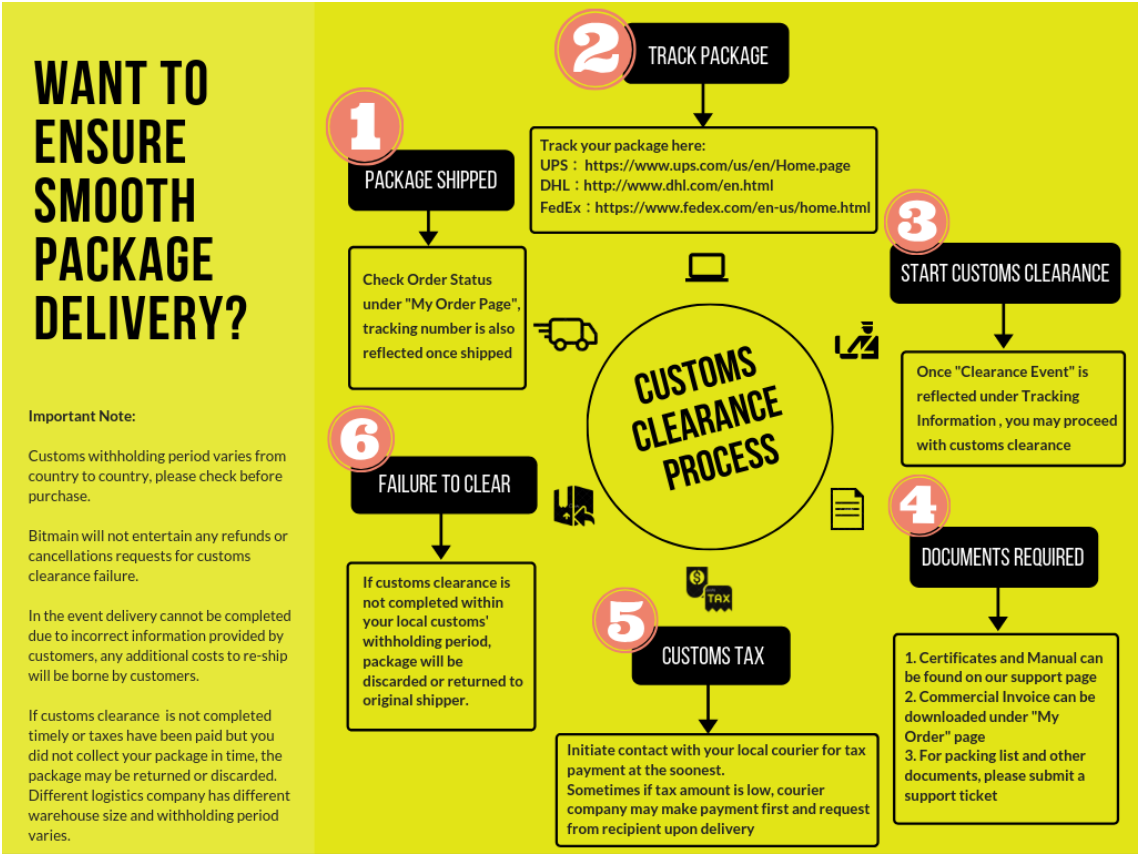 ---
1. Know your shipment tracking number
You will receive an email notifying you that your order has been fulfilled and shipped. In the email, you can see your order's shipment tracking number.
Alternatively, you may go to your BITMAIN
account, go to: My Order > Sale Order > Shipped and you will find your order's shipment tracking number in the order details. You will also be able to download the commercial invoice.
Print a copy of the commercial invoice, you will need it for customs clearance.
2. Follow your package journey
Check your shipment tracking information periodically. The below summarizes the couriers we use to ship the miners:
3. Check for customs clearance

When your shipment tracking information shows "CLEARANCE EVENT", you can begin with customs clearance. We strongly encourage customers to initiate the first contact with their local courier or customs.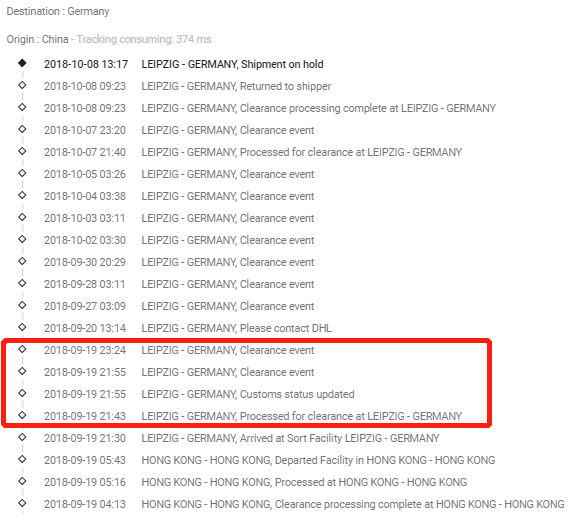 4. Prepare the documents
Usually, your local courier will email or call you to request for the necessary documents to do customs clearance. If you are using a third party customs clearance agent, contact them to follow up.
Some countries may need recipients to provide their Tax ID
Below are some documents that BITMAIN
provides:
5. Pay your taxes
Contact your courier company to confirm the taxes amount and payment method.
Your courier company will send you an email with a link to make payment and the related instructions online. You can simply complete the payment according the the instructions.
If tax amount is relatively small, the courier company will request for this payment upon delivery (COD). Confirm the delivery time and tax amount with the courier company and prepare beforehand to avoid failure to receive the package.
Upon delivery, check the conditions of the package.
---
HELP! Package not cleared!
In the event that,
You were unreachable during customs clearance period,
Customs clearance was not completed within the withholding period,
Customs has been cleared but you did not collect your packages within the courier's withholding period,
customs will either return the package to BITMAIN
or dispose of it.
NOTE: Withholding period varies from country to country. Different logistics companies have different warehouse size and withholding period.
What can I do?
In this case, we offer reship, only when the packages are returned to our warehouse, at your cost. The returning of shipment can take about 3-4 weeks and once the packages are ready to be reshipped, we will contact you for billing and scheduling.
As customs clearance is your responsibility, we are not liable for any returned shipment or discarded packages due to incomplete customs clearance or failure to receive packages after customs clearance.
In the event that delivery cannot be completed due to incorrect information provided by customers, any additional costs to reship will be borne by customers.
If you have any questions, please feel free to contact BITMAIN Customer Support.

< Contact us >