Failure phenomenon: Network status and mining pool status are both abnormal.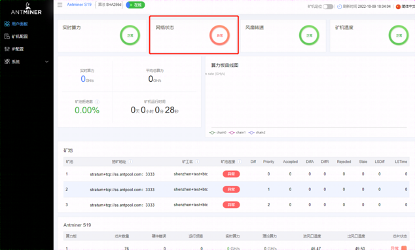 Failure causes and treatment methods:
Mining machine configuration problems
Check the worker name of the mining pool for errors, such as spaces or symbols full and half angle, etc. You can also restore the factory and reset it.
Mining machine control board abnormal
You can flash sd card or replace the control board to try.
Network abnormality
Generally speaking, the LAN of the mining farm has restrictions or the port is disabled, DNS configuration error, etc. Or the network operator restricts the port, In this case, it is possible to access the Internet, but it is not possible to mine, so you can only try to contact the network operator to lift the restriction.
Abnormal mining pool
If you exclude mining machine configuration problems and network problems, it may be the mining pool, replace the mining pool or contact the corresponding mining pool customer service to solve.
If you have any questions, please feel free to contact BITMAIN Customer Support.