Set Up a new S19j
Ⅰ.Before Using
1. Visually inspect the box when your miner package arrives. Look for signs of damage. If package is damaged, take photos of the package's conditions before proceeding to open the package and inspect the miner. If miner is damaged as well, contact customer support immediately.
2. Inspect the miner for aesthetic damage. Look at the corners of the miner and check for dents and cracks. Look out for broken fan blades and cables. If you noticed a damage or defect, contact customer support immediately.
3. Assess miner's heat sinks. View from miner's front and rear fan to check whether there are loose heat sinks. If you found loose heat sinks, contact customer support immediately.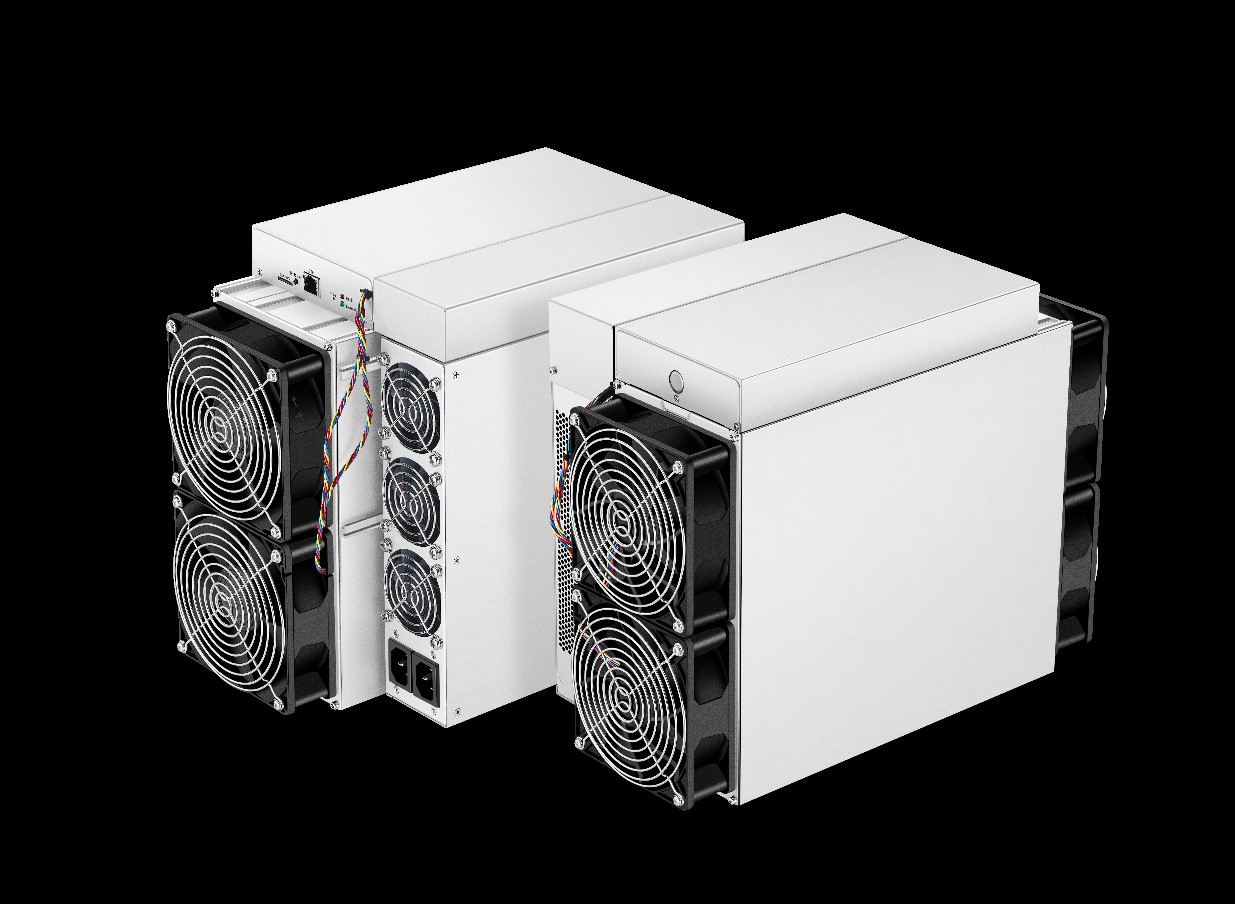 Know the Precautions for Use
1) PoE is not supported.
2) Only Ethernet network connection supported via a router or switch.
3) Use the miner in an environment between 5 to 35 degree Celsius.
4) Keep the miner's surrounding humidity below 65%
5) Keep the miner free of dust and catkins to prevent corrosion and/or heat accumulation.
6) Supported browsers: Google Chrome and Firefox.
7) Power connector and PSU cord must be plugged tightly.
Ⅱ. S19j Server Overview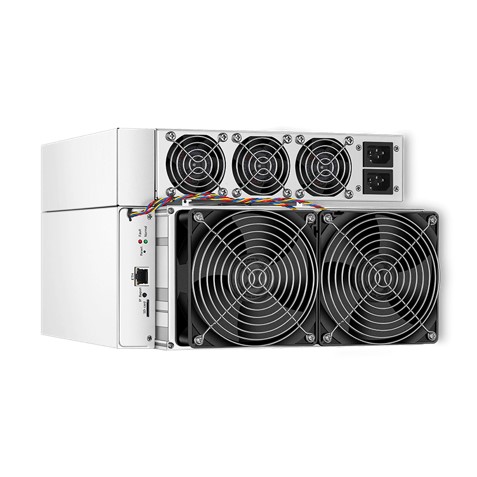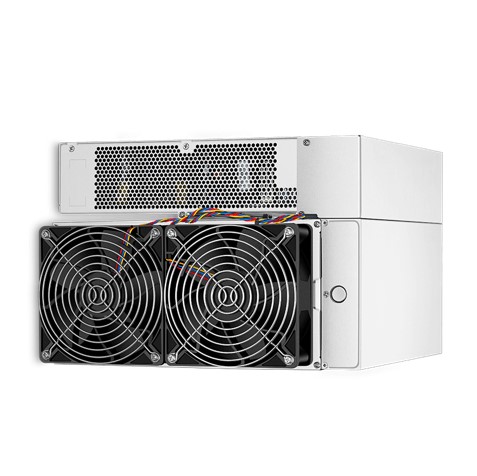 Front View Back View
Caution:
Please refer to the layout above to place your goods in usage in case of any damage.
The equipment must be connected to an earthed mains socket-outlet. The socket-outlet shall be installed near the equipment and shall be easily accessible.
The equipment has two power inputs, only by connecting those two power supply sockets simultaneously can the equipment run. When the equipment is powered off, be sure to power off all power inputs.
DO NOT remove any screws and cables tied on the product.
DO NOT PRESS the metal button on the cover.
1.1 S19j Server Components
The main components and controller front panel of S19j servers are shown in the following figure: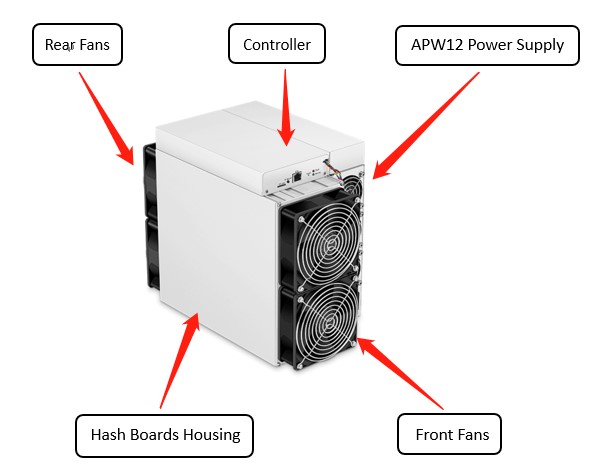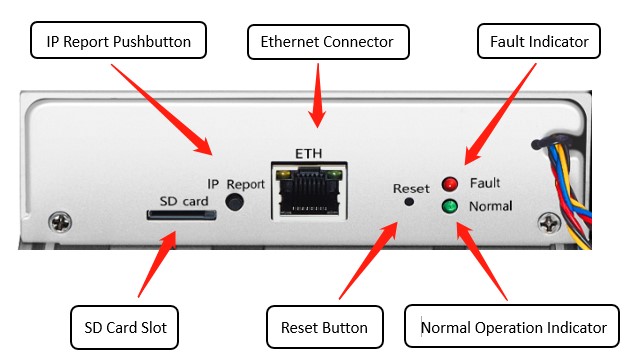 1.2 APW12 Power supply: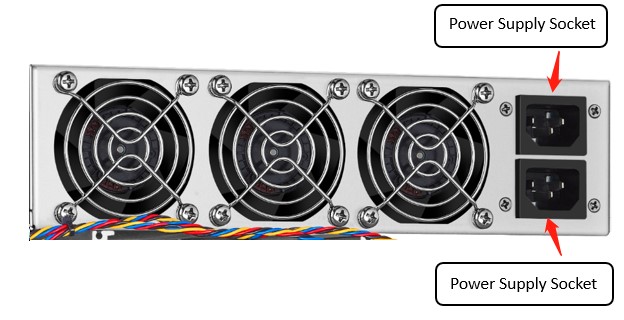 *Note:
1.Power supply APW12 is part of S19j server. For detailed parameters, please refer to the specifications below.
2.Additional two power cords are needed.
1.3 Specifications
 
Item
Value
Product
Glance
Version
S19j
S19j
S19j

S19j

Hashrate
94T
90T
86T
82T
Model No.
240-Cb
240-Cb
240-Cb
240-Cb
Crypto Algorithm/Currency
SHA256/BTC/BCH
SHA256/BTC/BCH
SHA256/BTC/BCH
SHA256/BTC/BCH
Hashrate, TH/s
94 + 3%
90 + 3%
86 + 3%
82 + 3%
Power on wall @25°C, Watt
3243 ± 5%
3105 ± 5%
2967 ± 5%
2829 ± 5%
Power efficiency on wall @25°C, J/TH
34.5 ± 5%
34.5 ± 5%
34.5 ± 5%
34.5 ± 5%
Psu
Standard
Power supply AC Input voltage, Volt (1-1)
200~240
200~240
200~240
200~240
Power supply AC Input Frequency Range, Hz
47~63
47~63
47~63
47~63
Power supply AC Input current, Amp(1-2)
20(1-3)
20(1-3)
20(1-3)
20(1-3)
Hardware
Configuration
Networking connection mode
RJ45 Ethernet 10/100M
RJ45 Ethernet 10/100M
RJ45 Ethernet 10/100M
RJ45 Ethernet 10/100M
Server Size (Length*Width*Height, w/o package), mm(2-1)
400*195.5*290
400*195.5*290
400*195.5*290
400*195.5*290
Server Size (Length*Width*Height, with package), mm
570*316*430
570*316*430
570*316*430
570*316*430
Net weight, kg(2-2)
14.6
14.6
14.6
14.6
Gross weight, kg
15.8
15.8
15.8
15.8
Environment
Requirements
Operation temperature,°C
0~40
0~40
0~40
0~40
Storage temperature,°C
-20~70
-20~70
-20~70
-20~70
Operation humidity(non-condensing) , RH
10~90%
10~90%
10~90%
10~90%
Operation altitude, m(3-1)
≤2000
≤2000
≤2000
≤2000
*NOTE:
To prevent the spread of virus in the firmware, which can cause damage to the ANTMINER S19 series, the setting function of "Secure Boot" has been switched on and the "Root Authority" function has been disabled.

If the user fails to use the product in accordance with the given instructions, specifications, and conditions provided, or change the function setting without Bitmain's prior consent, Bitmain will not be liable for any damage arising therefrom.
(1-1) Caution: Wrong input voltage may probably cause server damaged
(1-2)Max condition: temperature 40°C, altitude 0m
(1-3) Two AC input wires, 10A per wire
(2-1)​​​​Including PSU size
(2-2) Including PSU weight
(3-1) When the server is used at an altitude from 900m to 2000m, the highest operating temperature decreases by 1℃ for every increase of 300m
Ⅲ. Setting Up the Server
The file IPReporter.zip is supported by Microsoft Windows only.
Go to the following site:

https://shop.bitmain.com/support.htm?pid=00720160906053730999PVD2K0vz0693
Download the following file: IPReporter.zip.
Extract the file.the default DHCP network protocol distributes IP addresses automatically.
Right-click

"

IPReporter.exe" and run it as Administrator.
Select one of the following options:

■ Shelf, Step, Position – suitable for farm servers to mark the location of the servers.

■ Default – suitable for home servers.

Click "Start".

On the controller board, click the IP Report button. Hold it down until it beeps (about 5 seconds).

The IP address will be displayed in a window on your computer screen.

In your web browser, enter the IP address provided.
Proceed to login using root for both the username and password.
In the Protocol section, you can assign a Static IP address (optional).
Enter the IP address, Subnet mask, gateway and DNS Server.
Click "Save".
Click

https://support.bitmain.com/hc/en-us/articles/360018950053

to learn more about gateway and DNS Server.
Ⅳ. Configuring the Server
Setting Up the Pool
To configure the server:
click

"

Setting"

marked below.*Note:
Fan speed percentage can be adjusted, but we recommend to keep the default setting. The server will adjust the fan speed automatically if the fan speed percentage has yet been selected.

There are two working modes of 19 series server: Normal mode and Sleep mode. The server enters the sleep mode under the condition that the control board is powered while hashboards are not powered.
2.Configure miner's pool settings
Click the "Miner Configuration" tab to set up the mining pools. Key in the mining pool URL and miner name (under Worker).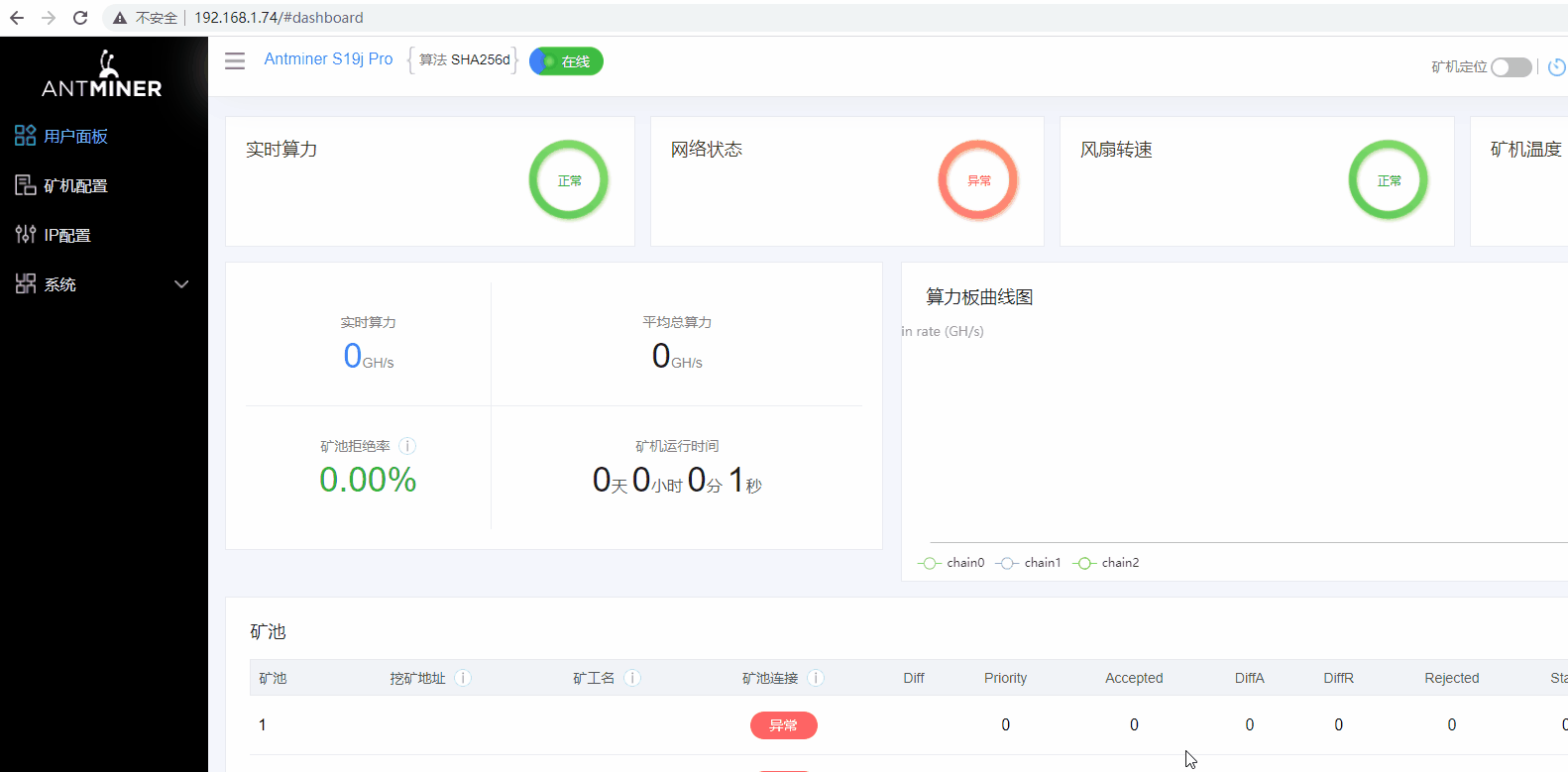 Then click "Save" to connect to the mining pools.
*Note: In this article, we are using Antpool. Feel free to use other mining pools.
Ⅴ. Monitoring Your Server
To check the operating status of your server
1.Click dashboard marked below to check the server status.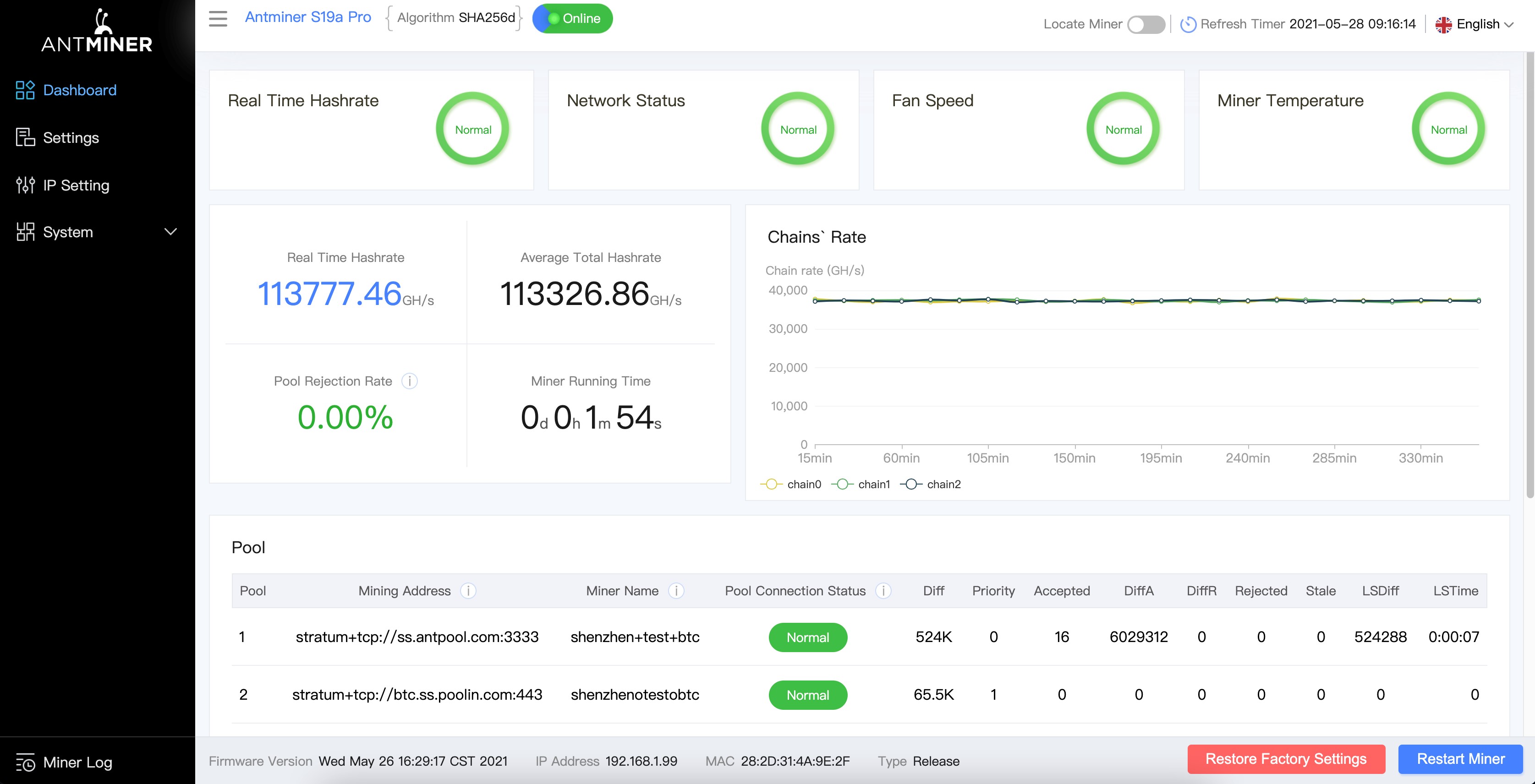 *Note:
The S19j server (92T) is with fixed frequency 500MHz. Firmware will stop running when the Temp(Outlet) reaches to 85℃,there will be an error message "over max temp, pcb temp (real-time temp)"shown on the bottom of kernel log page. Meanwhile, the server temperature on the dashboard interface turns to abnormal and shows "Temp is too high".
2. Monitor your server according to the descriptions in the following table:
Option

Description

Number of chips

Number of chips detected in the chain.

Frequency

ASIC frequency setting.

Real Hashrate

Real-time Hashrate of each hash board (GH/s).

Inlet Temp

Temperature of the inlet (°C).

Outlet Temp

Temperature of the outlet (°C).

Chip state

One of the following statuses will appear:

● The Green Icon - indicates normal

● The Red Icon- indicates abnormal
Ⅵ. Administering Your Server
6.1 Checking Your Firmware Version
To check your firmware version:
Enter the backstage of your server, find the firmware version on the bottom.
Firmware Version

displays the date of the firmware your server uses. In the examples below, the server is using firmware version
6.2 Checking Your Firmware Version
Make sure that the S19j server remains powered during the upgrade process. If power fails before the upgrade is completed, you will need to return it to Bitmain for repair.
To upgrade the server's firmware:
In

System, click"Firmware Upgrade".
For

Keep Settings:

■ Select "keep settings" to keep your current settings (default).

■ Unselect "keep settings" to reset the server to default settings.

Click the button and navigate to the upgrade file. Select the upgrade file, then click"Update".

When the upgrade is completed, restart the server and it will turn to the setting page.
6.3 Modifying Your Password
To change your login password:
In

System, click the

Password
Set your new password, then click

Save.
6.4 Restoring Initial Settings
To restore your initial settings
Turn on the server and let it run for 5 minutes.
On the controller front panel, press and hold the

Reset

button for 10 seconds.
*Note:
Resetting your server will reboot it and restore its default settings. The red LED will automatically
flash once every 15 seconds if the reset is operated successfully.
Should you have any inquiries, feel free to contact us for assistance.