If your S9 firmware upgrade has failed, abort the upgrade.
To restore, download our S9 fix upgrade package and your and then upgrade again.
---
1. Go to our firmware page and download "Package to Fix Upgrade Failure" under the S9 tab.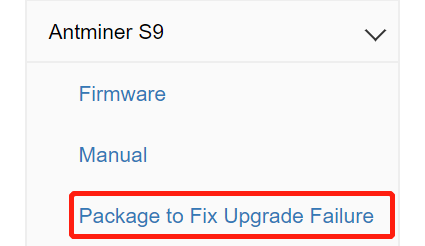 2. Reload the package as per normal.
3. Download the latest firmware and upgrade again.
4. Reset miner if you can not find IP after updating.
5. Let the miner run at least 20 mins. 
---
If you are still unable to solve this problem, contact us for further assistance.