1. The arithmetic interface shows that the fan is abnormal or the speed is 0.

Causes and Treatment
The mining machine has 4 fans, the fan number on the control board corresponds to the fan number on the user panel of the mining machine (FAN1, FAN2, FAN3, FAN4 respectively). First check which FAN is abnormal, and replace the corresponding fan; if the problem still exists after replacing the fan, it means the control board is damaged, please return to the factory for repair.
2. Too high speed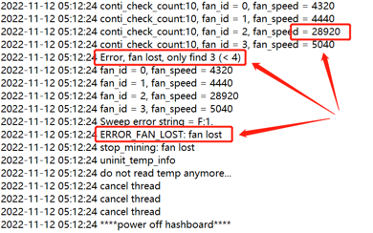 Causes and Treatment
The fan is damaged and the corresponding fan needs to be replaced.
If you have any questions, please feel free to contact us.

< Contact us >