There are three ways to reset to factory settings:
1. Restore via "Reset" Button
This method can be applied within 10 minutes when the miner boots.
After powering on the miner for 2 minutes, please press "Reset" button for 5 seconds, then release it. The miner will be restored factory settings within 4 minutes and automatically restart (no need to power off the miner).
Note*: The reset is only valid if the mining machine is powered on for 2 minutes to 10 minutes, beyond 10 minutes, it cannot be recovered.
2. Restore via web side
17 series recovery methods
Log in to your miner user interface, click "Upgrade" > >"Perform reset", then click "OK" on the pop up window.
19 series recovery methods
Log in to your miner user interface,Click "Restore factory settings" in the lower right corner and select "Restore factory settings" in the pop-up selection box, then wait for a reboot.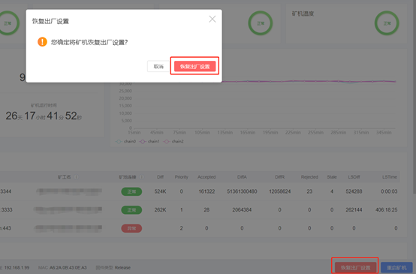 3. Restore via "IP Report" Button (For ANTMINER S9 series, T9, T9+)
Power off the miner, then hold down the IP Reporter and don't release it. At the same time, power on the mine again. Releasing the IP Reporter after 5 seconds, the machine will automatically restore factory settings.

*Note:S9, T9 according to this method to restore the factory must be online to upgrade the latest firmware on the official website.
This method is not applicable to the miner which has a SD card on the right of the Ethernet interface.
After reset, the miner will be in it's original firmware. Reload the miner with the latest firmware.
Tutorial Video Link: https://youtu.be/x6Yw-J0MTuE
This applies to all ANTMINERs.
If you have any questions, please feel free to contact BITMAIN Customer Support.