1. Check your voltage.
If your voltage is below the starting voltage of the PSU, the PSU will not work, resulting in miners not powering up. Starting voltage is the required voltage of wall outlet to get your PSU working. 
The voltages differ by country. Most countries are either 110 V or 220-2240 V, and the different voltages will put out different power. 
Make sure that your country delivers a voltage for the PSU that can be converted into sufficient power for your miner.
You may find the power required for your miners at the Antminers product page.
Generally, if your miner requires more than 1200 W of power, your wall socket must deliver a voltage of 220 V. If your country do not supply electricity at 220 V, you may consult an electrician to get your wiring configured. 
While our PSU deliver the same performance, there are some slight differences in terms of the rated power and input voltage. Do check their specifications for more details.
2. Check the PSU.
To check the PSU, you can test the miner with a known, working PSU and see if the working one could power up the miner instead.
You can use this page for troubleshooting the PSU: Troubleshooting for PSU Problems.
3. Check the control board and hash board.
If you still cannot power up the miner, please disconnect all the connections to hash boards as the photo shown below, then only connecting power connector to the control board.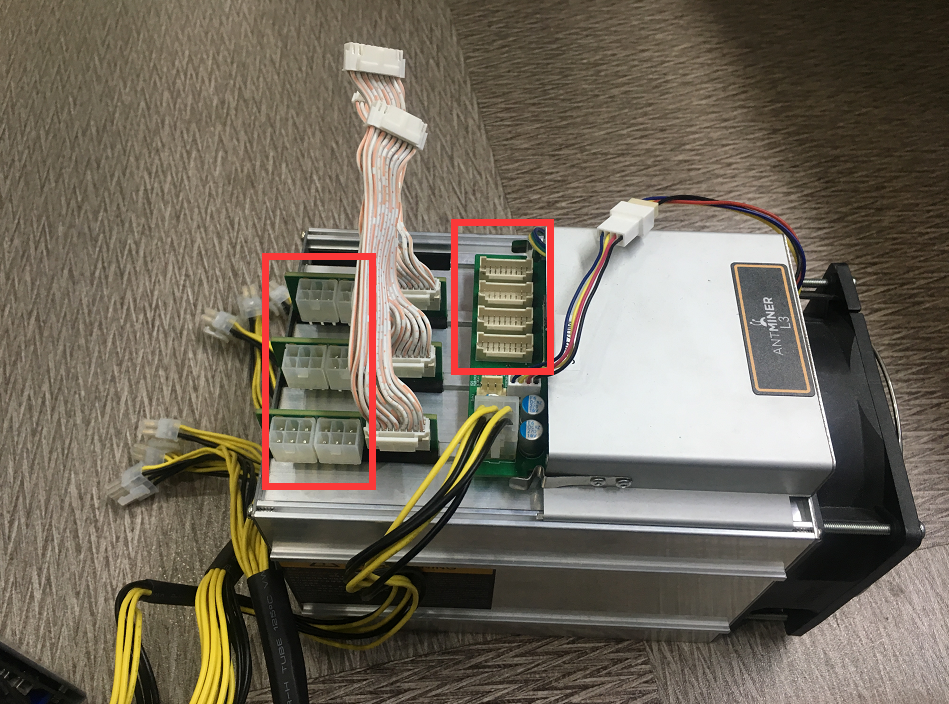 If the miner still could not be switched on, it means the control board is defective.
If you could power on the miner, it means the hash boards are defective.